Sonic the Hedgehog was created with one urgent purpose in mind: Create a new mascot for Sega, in a game that could sell over a million copies. Can you blame them when this asshole was their current mascot?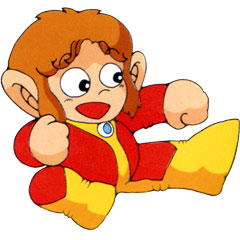 The Sonic games were empowering. Not only did the game allow for extreme speeds with no slowdown, but the rings concept softened the frustration level for players who's eyes and fingers couldn't keep up with the action. As long as you held onto at least one ring, you could survive hits from enemies, and live quite a long time. This did not interfere with the difficulty though, as I recall drowning the poor hedgehog on several occasions. The Sonic soundtracks, especially in the first two games, served to liven the already colorful and action packed stages; they easily stand out even among today's games.


The original three (give or take one more if you had the privilege to play Sonic CD) games were extremely satisfying to play. The games were a polished, heart pumping experience. Yet, most of us still hold a grudge against the series. What happened? For me, the first signs of decay could be seen in Sonic 3/Sonic and Knuckles. What the hell is up with Sonic's face in the title screens of these two? A lifeless, pre-rendered 3-D graphic of Sonic's face is what. Even in 1994 I thought this looked bad. Luckily, Sonic 3 had a faster engine and solid gameplay, though I still think the Sonic 2 in-game sprites look better for similar reasons.


Sonic 3d Blast was his first big crash. Need I say why? Sonic must have had a painful ankle sprain, because he was slower than shit in comparison to his previous runs. That's what you get for outsourcing the game's development. He got most of his speed back in Sonic Adventure, but platforming in 3d just isn't the same. Thank god for handhelds. The Sonic Advance games on the GBA had that old school feel, but still lacked the speed and soundtrack that made the originals great. Please give Sonic his balls back.


Later Sonic games added voice acting. Does anyone else think that Sonic's in-game voices sound off? Jaleel White (Steve Urkel) was the original cartoon Sonic voice, and the most fitting for his character. He portrayed Sonic in three TV series: Adventures of Sonic the Hedgehog, Sonic the Hedgehog (Saturday Morning), and Sonic Underground.


Being more of an oldschool gamer, I also prefer the short body, short quilled look for Sonic. However, like Link, Sonic's basic look has a recognizability which transcends even more significant design changes. Short or tall, blue or gold, Sonic the Hedgehog is always a badass… so long as he's fast.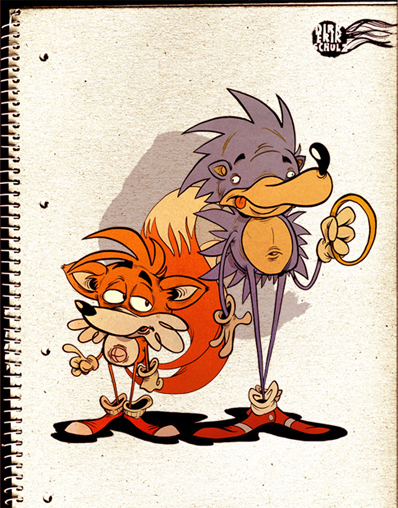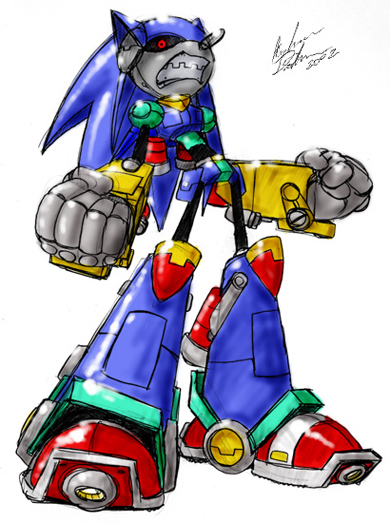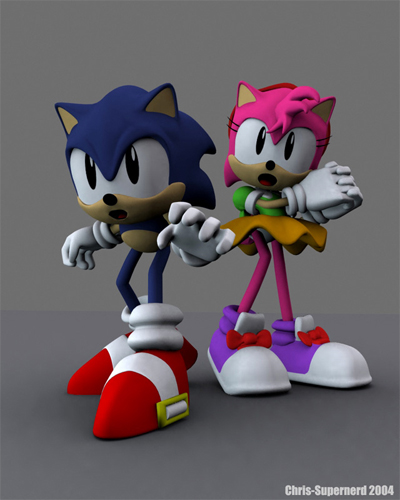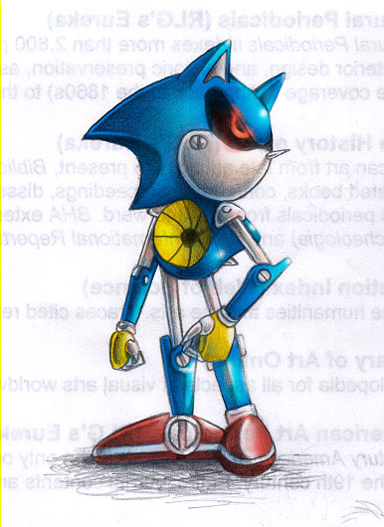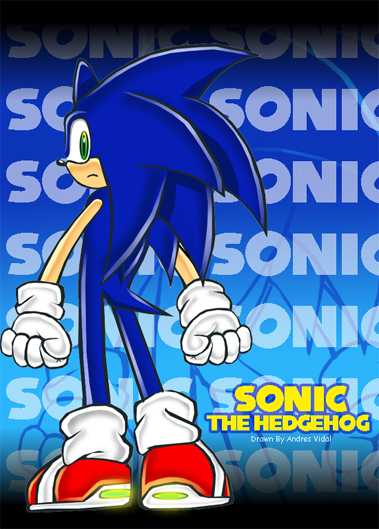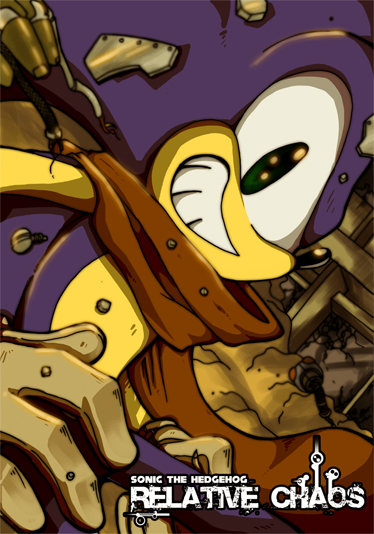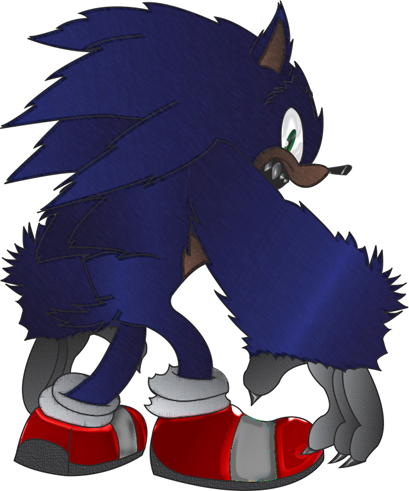 The gaming media site GotGame is hosting a fanart contest. They've got some cool prizes too so check it out! The basic information is as follows:

Prizes: All prizes are available as cash via Paypal, deviantART subscriptions or print accounts, and dA merchandise.


Grand Prize Winner:

- $250

USD


– Prominent bio on the Featured Artists Page on the GotGame site and on the dA journal.
– GotGame T-shirt




First Runner-up:

- $100

USD


– Backlink to your dA site from the GotGame Featured Artists page and on the dA journal.
– GotGame T-shirt




Second Runner-up:

- $50

USD


– Backlink to your dA site from the GotGame Featured Artists page and on the dA journal.
– GotGame T-shirt


Five Honorable mentions GotGame T-shirt and a link from the GotGame contest page and dA journal.

Rules and Important Info:

1. Submissions must be sent as 2400×1500px (or 8×5 in.) .jpgs at 300 dpi. Higher resolutions are acceptable, but it must maintain a 1.6 ratio.




2. Email all entries to contest@gotgameu.com



3. Along with your submission please include your:


– Full Name
– DA username
– High-res images as attachments
– Link to the Deviation(s)
– E-mail
– A short explanation for your inspiration and why this is your favorite character.

4. Submission must have a Video Game character included (any platform-console, PC, handheld- preferably from a mainstream game)




5. If you are doing more than one character in a submission, please no cross-overs unless it is a cross-over game. (i.e. CAPCOM vs. SNK, Kingdom Hearts, Smash Brawl, etc.)



6. You must submit your own work, please no photo manipulations or collages of other artists' work. We want these drawn or rendered from your own fingertips (mouse, tablet, pens.. pencils, you know what we mean)!



7. Multiple entries per entrant are allowed, please submit them all at once.



8. Previous artwork that have not been submitted to other contests are acceptable. However, it must not have been published before and they must have been created within the last year. However, We do encourage that you create new submissions for this contest.



9. By submitting your work, you are giving GotGame the right to use and alter the images for promotional use.(We will give proper credits and backlinks, of course.)



10. No adult content please.



11. We must receive entries from at least 75 different participants, or the deadline will be extended until we receive submissions from 75 different participants. Help spread the word, we want a good pool of talent to show us their favorite characters.



12. Deadline: September 15, 2008 midnight PST. (11:59 PM on Sept. 15)



13. If you have any comments or questions please comment under this journal in case other users have the same question. Do not leave questions on our user page in case we don't see them.

Tips on what we're looking for:

1. At least one character must be in the submission, does not have to be a full bodied depiction.

2. Entries that are colored (b&w/gray scale coloring counts too!) will be given more weight than only having line art.

3. Having a background will help boost up the appeal of your entry. It does not have to be an environmental background, we just want polished looking entries. Having graphical design elements or framing can help the composition even without a background. You want to impress your viewers, give it all you got!




Super Mario Bros. and The Legend of Zelda are Nintendo's two most popular icons, and biggest cash cows. Imagine if you could take the best of these two franchises and create a third, powerful entity. Oh, wait, they did that already. The lovechild's name was Metroid, and the resulting iconic character was Samus Aran.

The original Metroid came out in 1986 in Japan and one year later in the U.S.. The game gained notoriety after it was revealed in the games ending that the character you played as was a woman. Nintendo went so far as to refer to Samus as being male in the English instruction booklet. At a time before the Internet, you either overheard the secret in the cafeteria at lunchtime, or experienced the surprise for yourself.

Metroid II for the Game Boy was a bit smaller and more linear, but still was not a bad game by any means. I think gamers expected a possible step down for any NES sequel made for the Game Boy, and mentally prepared for it. But nothing prepared us for the leap that Super Metroid made on the SNES. To most, it's the quintessential 2-d sidescroller, and one of, if not the best SNES game.

However, one has to wonder what happened to Metroid in the Nintendo 64 era. Miyamoto stated: "through the entire Nintendo 64 period we were thinking of ways to produce a new Metroid title. We couldn't come up with any concrete ideas or vehicle at that time." For a game franchise with such a clean record (yes, including the Metroid Prime series dispute), it may have been for the best that Metroid 64 never saw the light of day. The 64 era was the gawky preteen era of 3-d games, and Nintendo 64 graphics have not aged as well as many thought. Neither have many of the game's implementation of 2-d gameplay mechanics in a 3-d world. Mario 64 has lost many fans who were taken in by the novelty of Nintendo franchises in 3-d, and nothing else. Luckily, Ocarina of Time still stands as a beacon of hope for the Nintendo 64's legacy. With that said, I feel it would have been more difficult to translate a Metroid game into a 64 game. For the legacy of the Metroid series, it was a smart to allow 3-d graphics to ripen before releasing a 3-d Metroid. Despite the debate over whether the Prime series consists of "real" Metroid games, many haters agree that if you take the "Metroid" name out of the picture, they still remain solid games.

If Nintendo continues to release 2-d Metroid games along with any 3-d titles, who can complain? 3-d or not, Samus lives on in the hearts and minds of the fans, as the following fanart is proof of.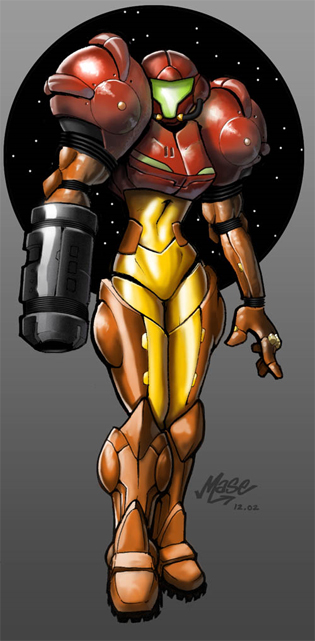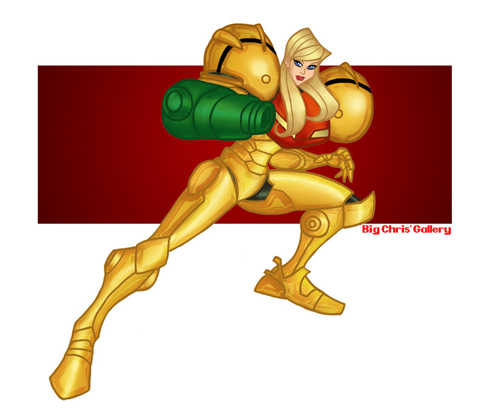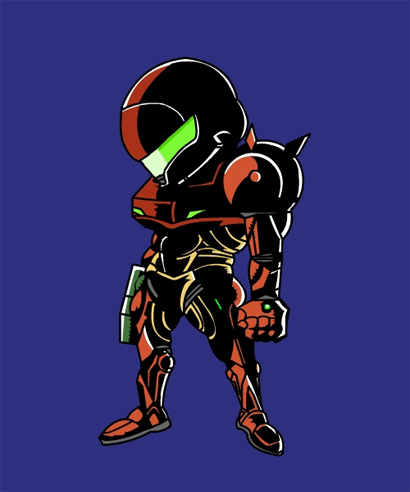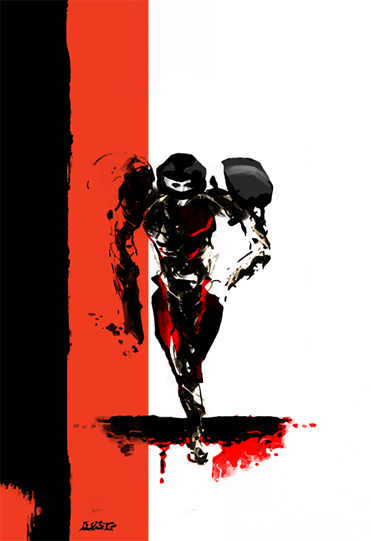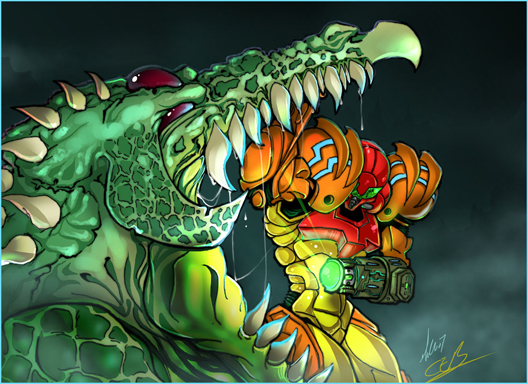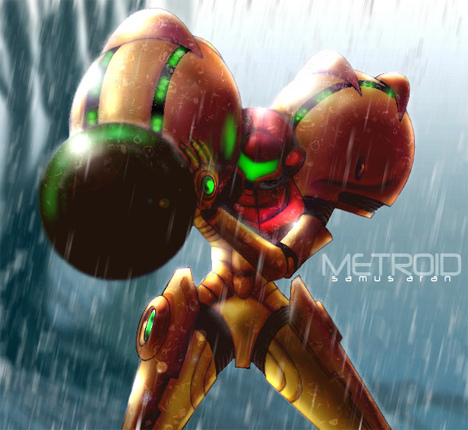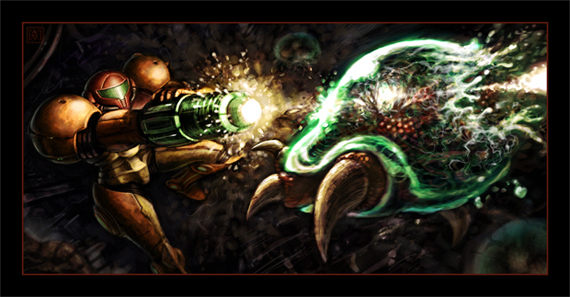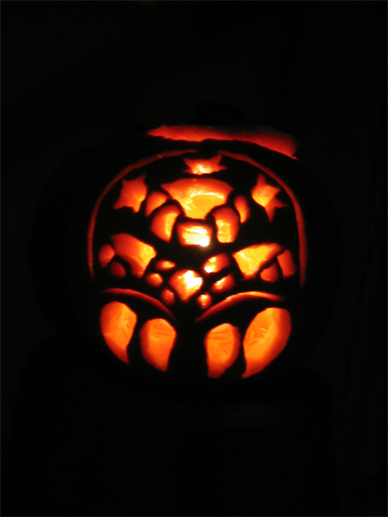 A pipe sprung a rather large leak on the lower east side. There's only one plumber for this job! Who wants to hire a plumber all the way over in Brooklyn though? Some great three dimensional pixel art, check it out for yourself
Everyone knows that Mega Man's Japanese name is Rock Man. Without knowing the secondary characters' Japanese names, some people don't know that its Rock – as in Rock n' Roll (Roll, being his hot sister's name). Both names are fitting. To think that "Mighty Kid" and "Knuckle Kid" were considered. Then again, he is a kid, or atleast he looks like one. We have all seen what Mega Man looks like as a "man."

Mega Man never looked so bad! Well, he almost has. It seems poor interpretations of the game art and theme wasn't limited to the U.S. release. The European boxart was a closer match. But they went downhill with Mega Man 2, what happened? Who is that silver guy with a giant vibrator for an arm? Everything started to improve with MM3, a little. I think we all would have been better off with the original famicon boxart. Or better yet, any of these: